This was certainly one the most anticipated games of this year, Assassin's Creed Unity. Released in parallel with Assassin's Creed Rogue for PS3 and Xbox 360, Unity is only available on PC and next gen consoles PS4 and Xbox One.
It is quite difficult to review this game without spoiling it. Of course you can find a full review of the game on some other websites, but I think that it is more enjoyable to play through the story by yourself.
[youtube id="41Y8t1IBTlA" mode="lazyload" aspect_ratio="16:9″ maxwidth="720″]
So what I will talk about here? Well simply how nice and cool this game is. I played some hours on this game, approximately 7 hours non-stop. Yes I know it's a lot for a continuous play but it's because once you started it, you don't want to stop! We loved all others Assassin's Creed environments and the time periods they showed.  Here, you play in France, and you start in the XVIIIth century. So you probably know that you will play a part in The French Revolution.
You play the character of Arno Dorian. When you start the game, you play him as child. This is particularly useful to understand why he will become an awesome assassin and to know what relationship he has with the other characters of in the game. I will not spoil, so I will not tell you more about the plot in detail. Arno is not officially an assassin when you start, he will join the brotherhood after some events which led him directly to someone who is member of the Creed.
About the graphics – Well this is simply beautiful! The environment is really well done, the textures are great quality and the lighting is quite nice. Check the screenshot below to see by yourself. NB: The child on the seat is Arno.
Unfortunately Ubisoft, didn't really optimize the game, so you need a really good pc to run it smooth, even on low graphics. They released a patch to fix some bugs. There are a lot of bad reviews of the game on the internet about the gameplay and I have to agree that it's not perfect. Sometimes I've been frustrated that my character was performing some actions that I didn't want to, get busted by the guards and have to restart the mission…
If you are a fan of Assassin's Creed franchise, you will be surely a bit disappointed. Why? Well the story is interesting, the characters as well, the places are really nice, but, yes there is a but, sometimes you start getting bored. I think it's missing a bit of dynamism in the game. Alright, he's an assassin and needs to be quiet and discrete but the french revolution is something where a lot of events happened and I hoped for a gameplay more "speedy", with intense battles.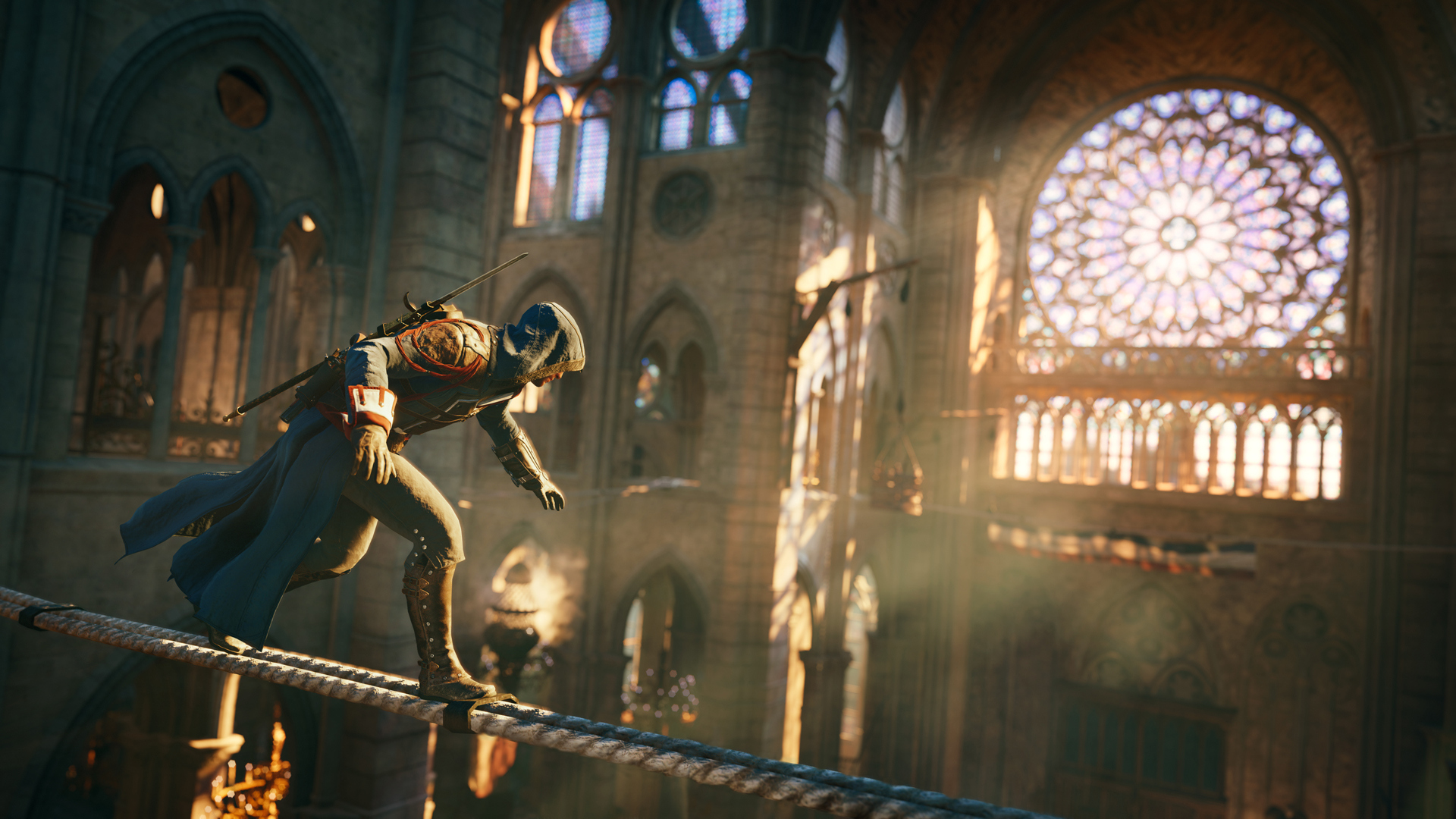 I still recommend this game to be played. I have not tried the online yet, but there is a coop mode. You can play up to 4 players.
If you want to share your opinion about your own experience, or add something that I've missed, you can add a comment.
[onebox url="http://store.steampowered.com/app/289650/"]